The 62+ Loan™ is a home equity conversion mortgage (HECM) that gives active adult homeowners an opportunity to eliminate their traditional mortgage payments in exchange for monthly cash flow, which can facilitate financial flexibility and a more active retirement lifestyle. As a mortgage program specifically designed to suit the needs and lifestyles of active adults and retirees, The 62+ Loan™ provides increased economic security, financial freedom, and peace of mind.
As a flexible HECM program, active adults can either refinance into The 62+ Loan™ or apply when they purchase a new primary residence for retirement. With The 62+ Loan™, active adult homeowners can lessen the burden of monthly mortgage payments and instead expand their personal and financial independence. If you're thinking about how The 62+ Loan™ can support your lifestyle and financial goals, keep reading to gain a better understanding of how to apply for The 62+ Loan™.
The 62+ Loan™ Eligibility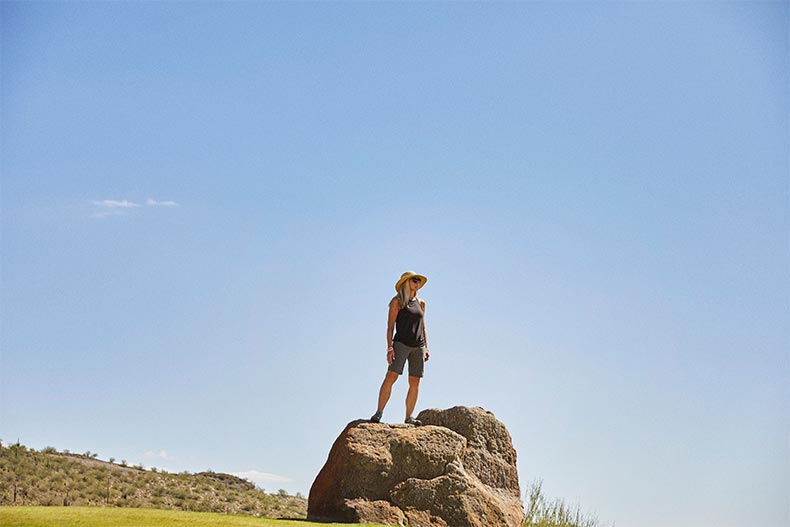 Active adult homebuyers and homeowners who are 62+ can qualify for The 62+ Loan™. Homeowners who want to refinance must own 55-65 percent equity in their home, and homebuyers who want to purchase a new home must pay an equal amount as a down payment. In order to qualify for The 62+ Loan™, the home must be your primary residence, instead of a vacation home or a second property. Eligible primary residences include single-family homes, two- to four-unit properties, and HUD-approved condominium homes.
Homeowners should also meet additional minimal requirements. For example, you must not be delinquent on any federal debts. You must also demonstrate the ability to continue paying property taxes, insurance, applicable HOA fees, and any other related costs. Homeowners must also take a HUD-approved housing counseling session.
To summarize, the requirements to qualify for The 62+ Loan™ are:
At least one homebuyer must be 62+
The home must be your primary residence
The loan requires a down payment of 55-65 percent of the home purchase price or 55-65 percent equity in the home to refinance
Homebuyers should also meet certain FHA and other financial eligibility requirements.
As an HECM, The 62+ Loan™ comes with many consumer safeguards and income and credit requirements. The 62+ Loan™ is FHA-insured and HUD regulated.
How to Apply for The 62+ Loan™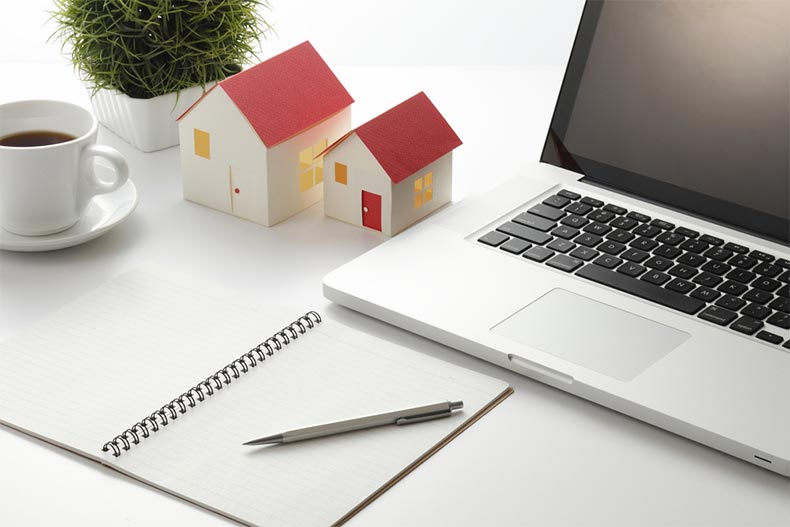 When it comes to refinancing or purchasing a new home, active adult homeowners understand the value of choosing the right mortgage that fits their needs, goals, and lifestyles, especially when it comes to financial security in retirement. It's crucial to find the right mortgage that fits your unique circumstances. Because it's such a big decision, 55places Mortgage works to clarify and simplify the process as much as possible.
Here's the process for applying for The 62+ Loan™ with 55places Mortgage, as explained in The 62+ Loan™ Home Refinance Guide.
1. Speak With an Advisor
The first step in deciding if The 62+ Loan™ is a good fit for you is to have a conversation with your 55places Mortgage Advisor about your options and opportunities. Our expert advisors will work with you to evaluate your current financial situation, free of cost and without obligation, to determine and advise you on what paths best fit your ideas for your future retirement lifestyle. 55places Mortgage Advisors specialize in working with active adults and retirees.
By speaking with a 55places Mortgage Advisor, active adults can gain more information and organize their mortgage options. If it's a good fit, your advisor will inform you of all of the benefits, features, and advantages of The 62+ Loan™. Your 55places Mortgage Advisor will also answer any questions you have and guide you through every step of the application process.
2. HUD-Approved Counseling Is Required
After you meet with your 55places Mortgage Advisor, the federal government requires that you meet with a HUD-approved counselor to make sure that you have received all of the facts you need to make a decision. Such counseling represents a consumer safeguard designed to help homeowners make the best decisions possible (and there's more information below on consumer safeguards).
A HUD Advisor is a counselor who is certified by the U.S. Department of Urban Housing and Development to assist homeowners in navigating the mortgage options available to them and weighing which mortgage solutions are right for them. More than likely, the HUD counselor will reaffirm what your 55places Mortgage Advisor has already gone over with you.
3. Processing and Approval
After deciding to pursue The 62+ Loan™, you'll complete an application. The 55places Mortgage Advisor facilitates the application process to make it as simple as possible. After you submit your application, it enters a processing stage before it is complete. Your home will need to undergo an FHA appraisal to be approved as the amount of The 62+ Loan™ depends on the home's appraisal and sale price as well as current interest rates for those refinancing.
At this point in the process, your 55places Mortgage Advisor will also request more specific financial information from you in order to conclude, without a doubt, that a reverse mortgage is the wisest financial decision for you and your goals. The next step is the underwriting process, which The 62+ Loan™ Home Refinance Guide describes as the time when "all documents are reviewed, finalized, and prepared for closing.
4. Closing and Receiving Your Funds
After submitting and processing your application, the rest is simple. You will be able to sign the closing documents at home and meet with your 55places Mortgage Advisor to discuss how your funds will be disbursed to you.
The process of applying for The 62+ Loan™ should be smooth and coherent, and your 55places Mortgage Advisor will guide you through it every step of the way, responding to any questions or concerns. The 62+ Loan™ Home Refinance Guide states: "The 62+ Loan™ is designed to strengthen your personal and financial independence by providing funds without the burden of a monthly payment during your lifetime," and that financial independence begins with the application process.
Additional Information: Consumer Safeguards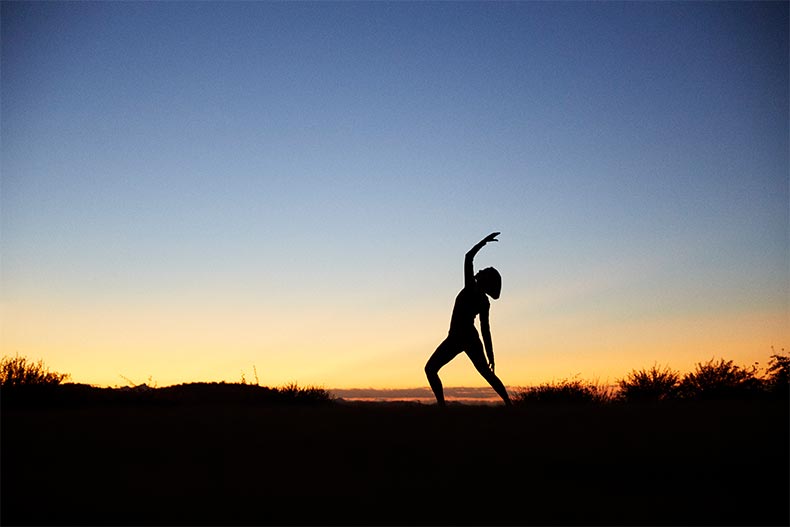 As mentioned above, The 62+ Loan™ is embedded with consumer safeguards designed to facilitate the application and mortgage process. These consumer safeguards can strengthen your confidence and reassurance in The 62+ Loan™.
One such safeguard is the aforementioned counseling session with an independent HUD-approved counselor, which is mandated by the FHA to ensure that you're comfortable with all of your options and the process. The loan origination fees charged in the loan process are also regulated and run through HUD to make sure the charges are fair and correct.
The 62+ Loan™ includes a no prepayment penalty, meaning that you can choose to repay the loan at any time without any penalties or fees. The 62+ Loan™ is also a non-recourse loan, and The 62+ Loan™ Home Refinance Guide details that "no assets other than your home secure the loan. If you were to owe more than the home is worth when the loan comes due, an FHA managed insurance fund will cover the difference to the lender. If the home is worth more, all remaining equity belongs to you or your heirs."
With all of these consumer safeguards in place, you can feel secure in the safety and independence that comes with The 62+ Loan™.
What's Right for You?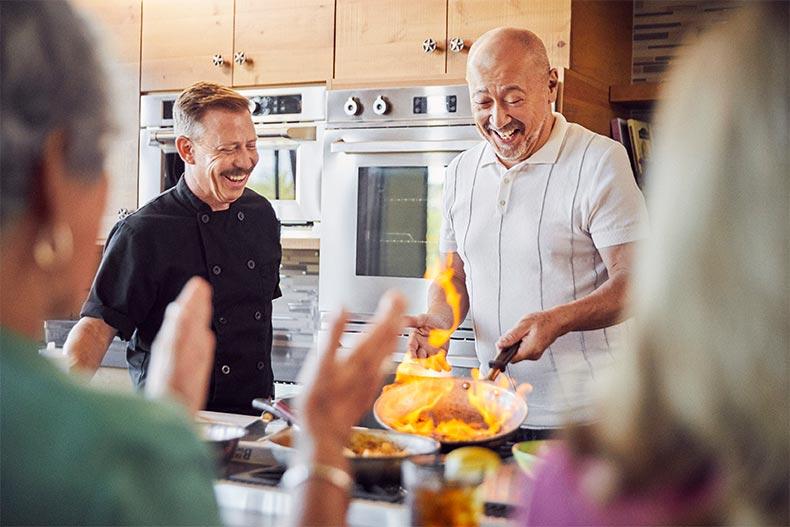 Ultimately, The 62+ Loan™ provides active adults and retirees with an advantageous alternative to a traditional mortgage that supports their financial freedom and retirement goals. Instead of a traditional mortgage, those who want to buy or refinance a home for retirement can do so with the support of The 62+ Loan™.
Learn more about The 62+ Loan™ and other homebuying options for active adults through The 62+ Loan™ Home Refinance Guide and The 62+ Loan™ Homebuyers Guide or feel free to reach out to 55places Mortgage.