Active adult homeowners know the importance of finding the right mortgage that fits their needs, budget, and lifestyle, especially when it comes to financial preparation for their retirement years. But for active adults and retirees who seek more financial freedom, economic security, and peace of mind, there might be a better option than a traditional mortgage: The 62+ Loan™.
The 62+ Loan™ refers to a loan program that can eliminate monthly mortgage payments for 62+ active adults, which can generate additional cash flow and sustain financial flexibility for years to come. Keep reading to learn more about how The 62+ Loan™ can support your active lifestyle and help you plan for financial success in retirement.
What Is The 62+ Loan™?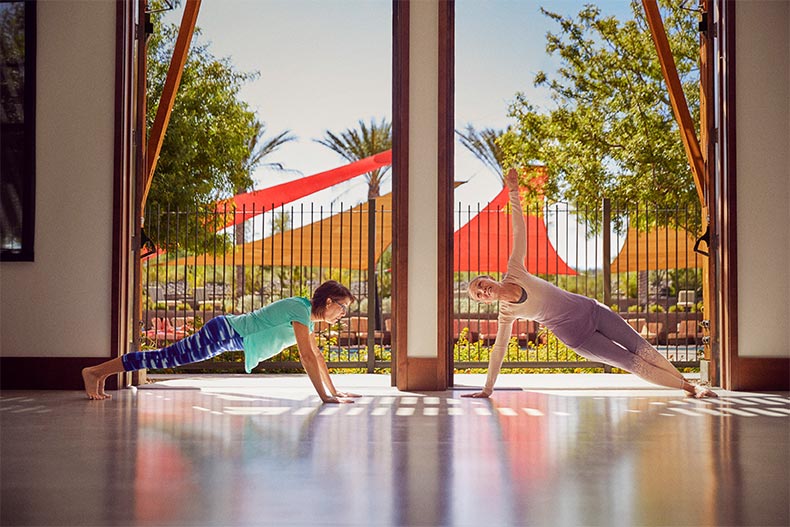 The 62+ Loan™ is a home equity conversion mortgage (or HECM) created through a partnership between 55places Mortgage and Retirement Funding Solutions, a leading mortgage provider owned by Mutual of Omaha Bank. With The 62+ Loan™, homeowners can make a one-time down payment that eliminates the need to make any monthly mortgage payments. Without any more mortgage payments after the initial investment, the FHA-insured program gives homebuyers more money in their pockets and their bank accounts.
According to The 62+ Loan™ Home Refinance Guide, "the 62+ Loan™ converts a portion of your home equity into tax-free cash. You can establish a line of credit that grows larger over time, receive predictable monthly payments, or receive a lump sum." As the guide explains, "there are no monthly mortgage payments required, although you are allowed to make payments if you so choose. You do not give up ownership of your home and you can still pass your home on to your heirs."
Importantly, The 62+ Loan™ empowers retirees with financial freedom. Tane Cabe, the Vice President of 55places Mortgage, states:
"The most powerful thing about The 62+ Loan™ is it allows anyone who is retired, or getting close, to make memories and not mortgage payments. The vast majority of people want to eliminate the mortgage before retiring. Using The 62+ Loan™ can eliminate a mortgage payment while simultaneously providing reserve cash and income."
Benefits of The 62+ Loan™
The 62+ Loan™ provides an advantageous mortgage option specifically designed to meet the needs of active adults and retirees. As such, The 62+ Loan™ provides a range of benefits for retirees who need more financial freedom to support their active lifestyles.
Larger Monthly Cash Flow

One of the biggest benefits of The 62+ Loan™ is that it takes away the need for monthly mortgage payments. Active adults no longer need to pay their mortgage unless the loan defaults, which may happen from a failure to pay property taxes or homeowners insurance. Without these monthly mortgage payments, active adults may have a substantially larger monthly cash flow that they can spend as they choose. Additionally, the money provided by The 62+ Loan™ becomes a tax-free source of monthly income.

Retain Ownership

Under The 62+ Loan™, active adult homeowners retain ownership of their homes indefinitely as long as they satisfy the basic obligations of the loan. These obligations include occupying the home as a primary residence, remaining current on property taxes and homeowners insurance, and continuing to pay home maintenance and any HOA fees.

Doesn't Affect Social Security or Medicare

Notably, enrollment in The 62+ Loan™ doesn't affect Social Security or Medicare benefits. Retirees can continue to receive their same benefits when they refinance into The 62+ Loan™. However, because some loans may impact benefits or eligibility for certain government programs, such as Supplemental Security Income and Medicaid, active adults should speak with a mortgage advisor or financial professional for guidance.
How to Use The 62+ Loan™
As The 62+ Loan™ reveals, many retirees can think of their home as a savings bank that can help fund their retirement. The 62+ Loan™ can enhance retirement for many active adults by providing increased financial freedom and security that comes from eliminating mortgage payments, generating additional cash flow, and taking advantage of the value you've built in your home.
For more information about The 62+ Loan™, take a closer look at The 62+ Loan™ Home Refinance Guide and The 62+ Loan™ Homebuyers Guide. These resources can help you explore another path to financial freedom and decide whether The 62+ Loan™ is right for you.